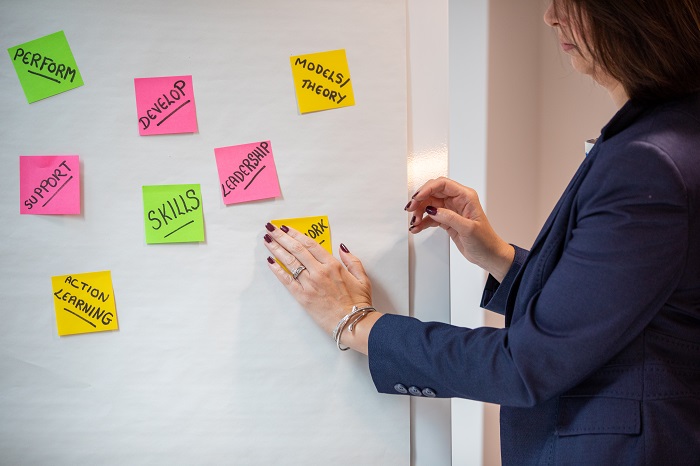 Like many others, my new year started with a flurry of good intentions and plans for the future. As we hurtle towards the end of January (where did that month go?), it's a great time to review them. If you're finding that things have not moved forward in the way you had intended, it may be an opportunity to try a different tactic and design your very own vision board. Here is the story of how and why I made my latest one (try it, it really works!).
What is a vision board exactly?
I first came across this concept a few years ago and have sworn by them ever since. Essentially a vision board is a collage of images and words, which represent the life you want to live. And it really does work! There is no 'black magic' here but it's about giving yourself an opportunity to set a clear vision with inspiration and steps you'll take, which help you turn it into the reality. Not to mention the fact it's a visual representation which you'll have hanging up in front of you, so no avoiding it like you would a 'goals list' tucked away in a book somewhere.
Having done this in the past and knowing it works, when I've made big change such as moving from a Careers Adviser into the Learning & Development sector, I knew this was a great time to do another. You can keep vision boards broad or go for something specific; in my case rather than looking at my whole life, I focused on what I wanted to do with my fledgling business over the next 6 months and mainly, how I wanted that process to feel and what I wanted out of it.
So how do I make a vision board? What steps do I need to take?
Step 1:
Set yourself a clear vision – what do you want, what do you need and what do you value? You'll find in some of the later steps that you'll start testing this when you're picking and choosing images as it'll really test your thinking and what is the most important to you as you start running out of space on the board and that's part of why this process works.
Step 2:
Gather your supplies – board (I used a large piece of carboard which came in some packaging and spray painted it), glue, other decorative supplies like stickers and gems etc – raid your cupboard or the local HobbyCraft! I also like to gather supplies in terms of magazines and looking online for possible words and pictures to use.
Step 3:
Create an inspiring space. Give yourself time and space with an area to spread out in where you can feel energised and inspired by this process. Get some good tunes playing and a nice candle burning and you're good to go.
Step 4:
Start laying out your words and pictures onto the board; lay out the whole design and only once you're happy should you stick everything down with glue or double-sided tape. There are no rules as to what goes where, although this time I found myself vaguely categorising topics as I went. The space and prominence I gave to these told me something about their importance to me.
Picking out the key things that resonate with you; words you're inspired by and how the images fit. It doesn't have to be a work of art, it's about what looks good/sits well for you.
Step 5:
Put the finished board up somewhere you can see and get inspired by regularly. You may also find that you use this to re-evaluate the goals you set originally and see why they are not working for you. You may wish to further develop and write new goals along with a more detailed plan including SMART targets. If you need more help with #visionboards or #goalsetting and #career #coaching, please contact me at www.thetalentcycle.co.uk to find out more and please comment below, showing me picture of your lovely creations!